Energy Efficiency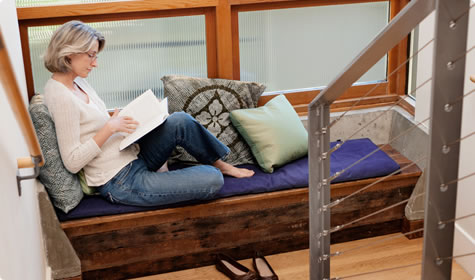 Energy efficient homes are less drafty, quieter, and have lower utility bills than conventionally built homes. By making your home more energy efficient, you'll also lower your demand on California's power grid and reduce your home's impact on climate change.
It's more affordable than ever to make your home more energy efficient. If you're planning an energy upgrade, visit EnergyUpgradeCA.org to learn more about available rebates and incentives, and to see a list of qualified contractors.
GreenPoint Rated allocates an average of 50 percent of its points to Energy Efficiency. The top point-earning measures in this category include:
Energy Performance:  The energy performance of your home depends on many different factors, including insulation, windows, tight air ducts, air sealing of the home, high efficiency furnaces and water heaters, and programmable thermostats.
Appliances and Lighting: ENERGY STAR appliances (dishwashers, refrigerators, washers and dryers), efficient lighting (or changing to CFL's in your existing home).
Renewable Energy: Using solar water heating system or photovoltaic (PV) systems to reduce home energy usage.