Major Appliances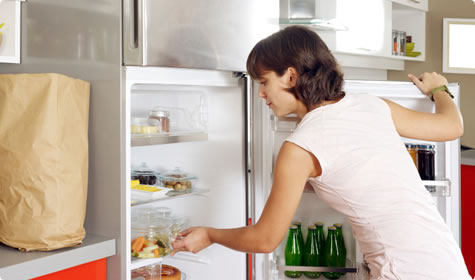 Core Benefits

Earns GreenPoint Rated points

Saves money

Saves energy

Saves water

Protects natural resources

Makes your home healthier

Improves your community
When shopping for home appliances that use a lot of energy or water, such as refrigerators, dishwashers and clothes washers, always look for the Energy Star label. Energy Star–qualified appliances save more energy and money than standard models that merely meet the government's basic standards for energy efficiency.
As an added benefit, many high efficiency appliances work even better than their standard counterparts. High efficiency refrigerators maintain more uniform temperature thanks to more efficient compressors, more precise temperature controls and improved insulation. Efficient dishwashers consistently heat water to the appropriate level to get dishes clean. And front-loading washing machines are less abrasive to fabric, helping clothes last longer.
Refrigerators/Freezers
Refrigerators and freezers are among the largest users of electricity in most homes, accounting for up to 25% of household energy use. Replacing an older refrigerator with a new Energy Star model may reduce your overall electricity bill by 10% or more.
Larger refrigerators tend to use more energy than smaller models. Keep your refrigerator's size in check: choose a model with no more than 20 to 25 cubic feet of capacity for the refrigerator and freezer combined.
Avoid through-the-door ice dispensers and side-by-side refrigerators/freezers, as these models use 10% to 30% more energy than comparable models without these features.
Dishwashers
High efficiency dishwashers use less water and energy than conventional dishwashers. Replacing a dishwasher made before 1994 with a new Energy Star–qualified model will save you $40 a year, according to the Energy Star program. That's enough to pay for your dishwashing detergent for a whole year. Also, a high efficiency dishwasher will save an average of 1,300 gallons of water over its lifetime.
High efficiency dishwashers have a built-in water heater to boost the temperature of the dishwashing water. This means you can turn your household water heater down to 120°F, which will reduce your overall water-heating costs.
Clothes Washers
Energy Star–qualified clothes washing machines use 50% less energy and 35% to 50% less water than a standard washer—and they do just as good a job of cleaning laundry. Replacing a washer that's over 10 years old can save $135 each year on your utility bills, according to the Energy Star program.
Choose clothes washers with a water factor rating of 4.5 or less and a modified energy factor of 2.2 or greater. Note that not all Energy Star models meet this level of water and energy efficiency. The Consortium for Energy Efficiency has a helpful program that groups clothes washers into three categories of efficiency; look for products that qualify for CEE's Tier 2 or Tier 3 (Tier 3 is most efficient). Find qualifying models at www.energystar.gov or www.cee1.org.
Most Energy Star washing machines save energy and water through a horizontal axis design (usually front-loading instead of top-loading) that tumbles clothes in a small amount of water. These models also include a high-speed final spin cycle that extracts more moisture than standard washers. Less moisture means less drying time, which saves even more energy. And horizontal axis washing machines tend to be less abrasive to fabric than conventional top-loading machines with agitators, helping clothes last longer.
Choose a model that's the right size for your household's needs. Larger models hold more clothes but they use more energy too.
High-efficiency clothes washers typically require the use of low-sudsing, high efficiency detergents (often labeled HE). These detergents are used in smaller amounts than conventional detergents and cost less per load.
Appliance GreenPointers
Start with the Energy Star.

For a list of qualifying Energy Star models, visit www.energystar.gov. When shopping online, many websites allow you to narrow your appliance search to only Energy Star models. When shopping in stores, look for the Energy Star logo on the appliances.

Use the EnergyGuide label.

Keep in mind that even among Energy Star–qualified models, there are big differences in energy use. When shopping for major appliances, in addition to the Energy Star logo, always look for the yellow-and-black Energy Guide label. It tells you how much energy and dollars that particular model is expected to use in a year. Take a little time to comparison shop—it'll pay off when it comes time to pay your utility bills.

Find rebates.

Some high efficiency appliances may cost more to buy, but in general they cost less to operate over time. And efficient appliances may qualify for rebates. Check with your local utility company for rebate options before you buy a new major appliance.

Recycle old appliances.

When buying a new major appliance, be sure to properly dispose of the old one it's replacing. Some local utility companies have programs that will pick up your old refrigerator or freezer for recycling and even give you money for it. If that's not available, contact your waste hauler for recycling options.

Dry clothes for less.

When you can, dry laundry on a line outside or on racks in your home. You'll save energy and reduce wear and tear on fabrics. The Energy Star program does not cover clothes dryers. When shopping for a clothes dryer, choose a model with a moisture sensor. This feature saves energy by automatically turning off the machine when the clothes are dry. Also keep in mind that gas-fueled clothes dryers cost a lot less to run than electric models.