Countertops, Backsplashes and Shower Surrounds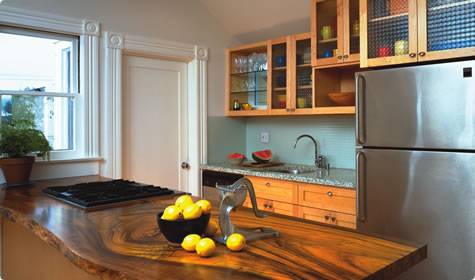 Core Benefits

Earns GreenPoint Rated points

Saves money

Saves energy

Saves water

Protects natural resources

Makes your home healthier

Improves your community
If you're thinking of replacing kitchen countertops and backsplashes, a vanity top, or a shower surround, you have many attractive, functional and green options to choose from. Recycled glass and ceramic tiles are available in a rainbow of colors. Other appealing options include terrazzo-like materials that blend recycled glass and concrete, and natural fiber composites derived from rapidly renewable or recycled resources.
Refurbish and reuse
Before tearing out an old countertop, backsplash or shower surround, evaluate your options for sprucing it up or repairing it. Reusing what you've got saves energy, natural resources and water compared to buying newly manufactured products. It can save you a lot of money too.
This Old House has an excellent how-to video on repairing laminate counters (www.thisoldhouse.com/toh/video/0,,20300221,00.html). If your countertop, backsplash or shower tiles look grungy because of cracked or stained grout, you can repair the grout yourself or hire a tile contractor. Wood countertops can be sanded and resealed. And sometimes other changes in the room, such as a fresh coat of paint on cabinets or walls, can make the adjacent countertop or shower surround look nearly new again.
Environmentally preferable materials
Green countertop options include solid surfacing materials and tiles made with recycled content; salvaged stone and ceramic tile; reclaimed or FSC-certified wood; and bamboo. Not all materials are suitable for wet locations such as shower surrounds.
Tile. Ceramic and porcelain tile are classic choices for kitchen and bathroom countertops and backsplashes, as well as shower walls. From an environmental perspective, tile is a reasonable choice: although it takes some energy and resources to manufacture it, it's made from relatively abundant natural materials (primarily clay) and it can last for decades if properly installed.

You can do more good for the environment if you choose a tile product that contains recycled material. Today there's a wide selection of gorgeous recycled ceramic, glass and metal tiles to choose from.

When comparing recycled-content products, favor those that have a high post-consumer recycled content. Post-consumer material comes from the discarded bottles, paper and other products that would wind up in landfills if we didn't recycle them, whereas post-industrial material is manufacturing scrap that goes back into the manufacturing process to make new products. Choosing products with post-industrial recycled content typically does not help reduce waste going to landfills or help support municipal recycling programs.

Quarried stone alternatives. Granite and other quarried stones have long been popular kitchen and bathroom surfacing materials, for good reason. Stone is beautiful, durable, water-resistant and about as natural as it gets. Unfortunately, quarrying it and shipping it around the world takes its toll on the environment. Green alternatives abound. Choose locally quarried stone, if that's an option. Or visit local used building material centers; many have large inventories of salvaged stone countertops.

Other green options include colorful terrazzo made from chips of polished recycled glass bound in a cement or resin matrix, and solid surfacing composite materials made from recycled paper, sunflower seed hulls, wheat straw and other agricultural waste, and post-industrial stone chips or quarrying debris.

Wood. Wood isn't suitable for locations that get wet, but it can be a good choice for some countertops such as kitchen islands, as well as shelves in kitchens, bathrooms and laundry areas. Green options include countertops made from wood salvaged from sources such as deconstructed warehouses and oak wine vats. Wood countertops are also available that have the Forest Stewardship Council Certified (FSC) logo, a seal of approval that the wood came from sustainably managed forestry operations. Other wood alternatives that reduce pressure to harvest natural forests include bamboo and palm wood from coconut palms that are no longer productive.
Healthier materials
Conventional caulks, construction adhesives and sealants can offgas toxic compounds for months. Low-VOC products are a healthier choice. They have lower emissions of toxic gases such as aromatic hydrocarbons or other petroleum solvents that contribute to indoor and outdoor air pollution. When installing countertops and tiles, use caulks, adhesives and sealants that have a volatile organic compound (VOC) concentration of 70 grams per liter or less.
Also pay attention to what goes underneath the countertops. Particleboard or medium density fiberboard (MDF) is often used as a substrate underneath a tile, stone or laminate surface. These composite wood materials used to be made with high levels of formaldehyde, a carcinogen. However, new regulations in California limit formaldehyde levels in pressed wood products manufactured or sold in the state.
Countertop GreenPointers
Pass it on.

If the kitchen counter or vanity top has to go, is it in good enough shape that you can use it in another part of your home, such as a laundry room, work room or garage? If you can't use it, consider selling or donating it to someone who could make good use of it. Keeping usable materials out of the landfill preserves natural resources and helps keep home improvement affordable.

Buy local.

Products fabricated locally (preferably from locally harvested or locally manufactured materials) offer many environmental, economic and social benefits such as helping keep jobs in your community and reducing transportation energy use.

Make it last.

Choose durable products and installation methods. These may cost a little more upfront or require a bit more time to install, but they will reduce your long-term maintenance, repair and replacement costs. And durable products and materials typically don't get sent to the landfill as often as their lower quality counterparts.