Flooring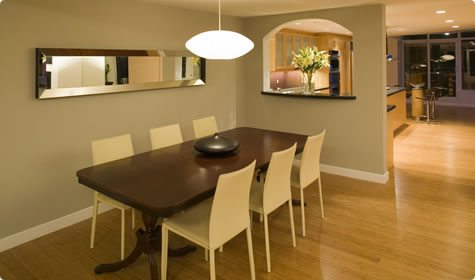 Core Benefits

Earns GreenPoint Rated points

Saves money

Saves energy

Saves water

Protects natural resources

Makes your home healthier

Improves your community
When it comes to floors, there are plenty of appealing options for every room of your home. While refinishing your existing floors is usually the greenest choice, if you're in the market for new floors, consider products that are reclaimed, FSC-certified, rapidly renewable or recycled.
Whatever flooring material you choose, make sure it's a healthy one. Certain flooring products offgas volatile organic compounds (VOCs) that can pollute indoor air. Low-VOC alternatives exist for almost all flooring products.
Healthier floor finishes and installation methods
A common source of indoor air pollution is volatile organic compounds (VOCs), a large class of chemicals that offgas from many building materials. Exposure to VOCs may cause a range of symptoms, from eye irritation and headaches to more severe effects. Many floor finishes, adhesives and sealants emit unhealthy VOCs.
Fortunately, the building products industry is responding to these indoor pollution problems by developing safer products, including low-VOC floor sealants and adhesives. These products are now commonly available from most major suppliers at costs comparable to conventional products.
Here are some tips for healthier floor finishing and installation:
If possible, choose products with factory-applied stains and finishes to limit chemical offgassing in your home.
If onsite finishing is required, use water-based, low-VOC products. Avoid alkyd and oil-based stains and finishes.
Use caulks and construction adhesives with VOC concentrations of 70 grams per liter or less in place of standard caulks and adhesives for all interior applications such as installation of subfloors, finish flooring and trim.
Encourage installers to saw and sand outside of your home as much as possible.
To protect indoor air quality, choose carpet products that meet or exceed the Carpet and Rug Institute's (CRI) Green Label Plus requirements for VOC emissions. Conventional synthetic carpeting and carpet padding can offgas high levels of VOCs for many years after installation. Install carpet with carpet tacks rather than adhesives, or use low-VOC adhesives.
Ceramic tile does not offgas and has minimal indoor air quality impacts. However, some mastic glues and epoxy grouts used for tile installation can emit high levels of VOCs. To reduce offgassing, opt for setting the tile with portland cement–based thin-set mortar and grout rather than mastic glues and epoxy grouts.
Finish and maintain concrete floors with low- and no-VOC sealants and waxes.
Natural stone has no VOC emissions; however, if the stone will be sealed, choose a low-VOC sealant.
Refinish your floors
Refinishing existing floors instead of replacing them might be your most economical option. It's also one of the best environmental choices—it reduces demand for natural resources like wood and stone, and saves energy used to manufacture and ship new products. When refinishing wood floors, use water-based, low-VOC sealers (see above). If ceramic or stone tiles are in good shape, consider cleaning and polishing them rather than replacing them.
Reclaimed wood flooring
Reclaimed wood flooring comes from sources such as old buildings and railroad ties. It can be finished to look like new wood or left with its natural blemishes. Buying flooring products made from salvaged wood instead of virgin wood reduces resource consumption and landfill deposits. Flooring made from reclaimed wood is often very beautiful, even when marked with old nail holes or other signs of age. Some reclaimed wood flooring is made from very high quality old-growth hardwoods.
There are many reclaimed hardwoods available for flooring, as well as some softwood species such as Douglas fir (note that softwood scratches and dents easily). Find reclaimed wood flooring at some flooring retailers and salvaged building material suppliers. Also check online classifieds such as Craigslist.com.
When choosing reclaimed wood, be aware that—depending on the condition and location of the material—labor, refinishing, transportation and storage can be expensive.
FSC-certified wood flooring
Wood certified by the Forest Stewardship Council (FSC) comes from forests managed in accordance with stringent sustainable forestry practices. Buying wood products with the FSC logo gives you assurance that the wood came from forests managed in a way that protects the long-term availability of wood resources, the health of forest ecosystems, and the sustainability of local economies.
FSC-certified products are available in a wide variety of domestic and exotic species, as solid wood planks as well as engineered wood flooring. For engineered wood flooring, ensure that the backing as well as the veneer is FSC certified, or that the backing is made of a rapidly renewable material such as wheat straw.
Rapidly renewable flooring materials
These flooring products are made from agricultural products that grow quickly and can be harvested on a relatively short cycle compared to slower-growing trees. This reduces pressure to harvest natural forests. Rapidly renewable materials used for flooring include bamboo, cork and natural linoleum.
Bamboo, which is as durable as most hardwoods, is a fast-growing grass that can be harvested in three to seven years. Bamboo floor manufacturing involves cutting bamboo stalks lengthwise into narrow strips and gluing these strips together either horizontally in layers, or vertically in strips.

Cork is naturally fire and moisture resistant as well as sound absorbent. It can be used as the finish flooring material or as an underlayment for hard-surfaced flooring to reduce noise transfer to the room below. Choose factory-sealed cork flooring that doesn't have a polyvinyl chloride (PVC) backing or wear layer. If unsealed cork flooring is installed, use a low-VOC natural wax or low-VOC polyurethane sealer. For easy installation, choose glueless tongue-and-groove products.

Although cork is resilient and durable, it may dent or scratch, particularly in high traffic areas, and some products may fade if exposed to direct sunlight. Cork may not be advisable in areas with high moisture content such as bathrooms and kitchens; check with your flooring supplier. Proper maintenance is required: vacuum or sweep the floor weekly; damp mop monthly with manufacturer-approved products and minimal water.

For bamboo and cork flooring, ensure that the plywood or MDF backing is low emitting and made without formaldehyde-based adhesives. Favor products with a backing made of FSC-certified or rapidly renewable material (see the previous section on FSC-certified wood flooring).

Natural linoleum, which has been used for flooring for more than a century, is made from renewable biodegradable resources, including linseed oil from crushed flaxseed, pine rosin, cork and jute, and abundant nonrenewable resources, including limestone and clay. It is naturally fire and moisture resistant as well as sound absorbent. Many people mistakenly use the word linoleum to refer to vinyl flooring, which is made from petroleum.

Linoleum comes in sheets and tiles. Installing it is more complex than installing vinyl flooring. Always use a manufacturer-certified installer who is trained in properly preparing the subfloor and cutting and gluing the linoleum. Linoleum must be installed on a smooth, dry surface. Do not allow contractors to use the same glues and methods for installing linoleum as they do for vinyl. Follow the manufacturer's recommendation for adhesives.

Also use the manufacturer's low-VOC linoleum surface treatment. Waxing is not recommended as it introduces potentially harmful chemicals and requires periodic stripping and resealing. In high traffic areas, sealers can be applied to increase resilience.
Recycled-content tile flooring
Recycled ceramic and glass floor tiles keep valuable resources out of the waste stream. They can be used wherever conventional floor tiles are used. Some recycled-content tile is very dense, which significantly reduces the amount of moisture and stains that are absorbed into the tile, making it more durable and easier to maintain. Ceramic tile has high thermal mass, which makes it a good option in conjunction with passive solar design (see our Major Remodeling and Additions Overview for information about passive solar design).
Ceramic tile is more durable than wood, linoleum and carpet but requires periodic maintenance. Grout may stain or trap dirt if not properly sealed. Ceramic tile is available in a wide range of colors, textures and patterns so the design possibilities are infinite. Recycled-content tiles from standard tile manufacturers are typically available at little to no additional cost. Some specialty manufacturers make higher recycled-content tiles for a slight cost increase. To keep dust out of your home, request that your installers do their tile cutting offsite or outdoors as much as possible.
Green carpet choices
If you plan to install new carpeting, there are many products that are healthier and more environmentally friendly than conventional carpeting.
Low VOC carpet and carpet cushion.

To limit chemical offgassing from carpet and carpet underlayment, choose products that carry the Carpet and Rug Institute's (CRI) Green Label Plus logo. These have been tested to meet standards for low VOC emissions.

Recycled-content carpet.

Recycled-content carpet is made from recycled plastic bottles, recycled nylon and wool, or recycled cotton. Recycled-content carpet helps provide a market for recyclable materials—approximately 40 two-liter soda bottles are recycled per square yard of carpeting. To reduce waste, choose a durable carpet with high recycled content. Recycled-content carpet can be used anywhere conventional carpet is used, and is comparable in appearance, performance and price to conventional synthetic carpet made from virgin materials. Recycled-content carpet is available in a rainbow of colors and has high stain resistance thanks to the plastic's natural stain-deterring properties.

Recycled-content carpet cushion.

Depending on the kind of carpet used, carpet cushion (also called underlayment) may be needed. Carpet cushion can improve the carpet's insulating properties, reduce wear from foot traffic and furniture, and help keep it looking good longer. Carpet cushions made from bonded urethane, jute, synthetic fiber or rubber are often available with a high recycled content. Look for low-VOC carpet cushion with the CRI Green Label.

Carpet tile.

Carpet tiles are a good alternative to sheet carpeting because stained or worn tiles can be selectively replaced, reducing costs and waste, but this requires keeping on hand spare tiles in case the product line is discontinued. Also, tiles may be twice the price of sheet carpeting. Choose carpet tiles with a high recycled content.

Natural fiber carpet and rugs.

Also consider natural-fiber carpet, such as wool, cotton, jute, seagrass, sisal, linen or coir. These materials are biodegradable and made from rapidly renewable resources. Natural-fiber carpet tends to have much lower emissions than conventional synthetic carpet. However, these may be more expensive or less durable than synthetic carpets.
Concrete
If your home is built with slab-on-grade construction, the concrete slab can be polished, scored with joints in various patterns, or stained with pigments to make an attractive finish floor.
Using the existing concrete slab as a finish floor eliminates the need to use other flooring materials. This is easier and less expensive to do when the home is first being built than as a remodeling project. Concrete floors are especially appropriate for use with in-floor radiant heating systems (see our know-how feature on Heating and Cooling) and passive solar designs (see our Major Remodeling and Additions Overview).
Usually, a low-VOC sealer is all that is required for sealing and waterproofing the concrete. Concrete floors are durable and easy to clean. Concrete may be less ideal in rooms where warmth or cushioning is desired, such as bedrooms and kitchens.
Flooring GreenPointers
Buy local.

When possible, choose products that are produced locally. In California, options include FSC-certified wood, ceramic tiles, and some recycled-content materials. Products fabricated locally from local materials offer many environmental, economic and social benefits such as helping keep jobs in your community and reducing transportation energy use.

Go shoeless.

Up to two-thirds of dust and particulates in houses is tracked in on shoes. These tracked-in contaminants contain everything from soil and pesticides to abrasive sand, mold, road grime and bacteria. Once these particulates are inside the home, they can be difficult to get rid of. The most effective way to avoid tracking contaminants into the home is for people to remove their shoes upon entering. Provide features near entryways that encourage the removal and storage of outerwear and shoes, such as shelves, benches and coat hooks, or create a mudroom. For entryways, avoid carpet, and choose easily cleaned flooring with a hard surface, such as hardwood, bamboo, concrete, ceramic tile or natural linoleum. The home will be cleaner, with less dirt and other pollution tracked in. Also, vacuum flooring regularly to ensure good indoor air quality. Use vacuums with HEPA filters.

Don't cover up thermal mass floors.

If your home was designed according to passive solar principles (see our Major Remodeling and Additions Overview), take care that any new flooring material you choose won't undermine the passive solar design. Use flooring materials that improve thermal mass, such as tile or concrete. Covering slab floors with carpet, wood, linoleum, a throw rug or similar materials is counterproductive to passive solar design. These materials insulate thermal mass from the effects of solar gain.

What's under the floor?

If your remodeling project involves repairing or replacing the subfloor that supports the finish flooring material, take a look at our recommendations for Structural Improvements. Want to keep your toes warm in the winter? Find out about radiant underfloor heating systems in our know-how feature on Heating and Cooling.