Insulation and Weatherization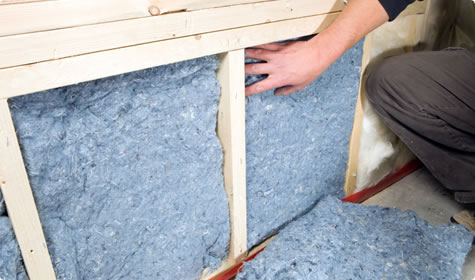 Core Benefits

Earns GreenPoint Rated points

Saves money

Saves energy

Saves water

Protects natural resources

Makes your home healthier

Improves your community
Improving the insulation in attics, roofs, and exterior walls and floors can save you money by reducing the energy used for heating and air conditioning. Sealing air leaks by applying caulk and weatherstripping can also reduce energy bills as well as keeping dust and other pollutants out of your home. Improved insulation and weatherization can also make your home more comfortable and quieter.
These energy efficiency improvements aren't just good for your household budget. They're also good for the community: lower energy demand reduces pollution from power plants, which means we can all breathe a little easier.
Exceed code requirements
California's Building Energy Efficiency Standards, known as Title 24, set minimum levels of insulation for all new home construction as well as major remodeling projects. You can find out what these requirements are for your climate zone by checking with your building department, architect, builder or Title 24 energy consultant.
Even though California's building energy efficiency regulations are more stringent than in the rest of the country, simply meeting code requirements isn't necessarily the best path. In many cases, upgrading insulation to exceed code can further reduce energy consumption and related greenhouse gas emissions, as well as reduce utility bills.
Effective methods of insulating include installing loose-fill cellulose or loose-fill fiberglass insulation or applying spray foam insulation. Compared to batt insulation, these methods are better able to surround pipes and fill gaps, thereby allowing the insulation to achieve its full rated R-value as well as effectively seal air gaps. (R-value is a measure of a material's capacity to block heat flow; the higher the R-value, the greater the insulation provided by the product.)
Ceiling insulation is generally intended to be installed in ceilings below the attic space, with appropriate ventilation in the gable or soffit areas. Insulate walls of existing wood frame houses to the capacity of the wall cavity—fill each cavity completely from side to side, back to front, and top to bottom. Wall cavities with existing loose-fill insulation can be blown full of new cellulose or fiberglass to increase the density, thereby increasing the R-value. Insulate floors over crawl spaces to the capacity of the floor joist depth as appropriate. Rigid insulation can also be attached to the underside of floors to improve thermal performance.
Recycled-content insulation
Choose insulation products with high recycled content. Materials such as recycled cotton or cellulose insulation contain up to 80% post-industrial or post-consumer recycled materials.
Post-consumer recycled content comes from products that have been used and discarded by a consumer and are then reprocessed as a raw material for a new product. Post-industrial recycled content is waste material from a manufacturing process that is reused to create a new product.
Cellulose insulation

contains more than 75% post-consumer recycled-content newsprint. Cellulose can be dry-blown into attic spaces, packed dry into walls, or damp-sprayed into wall assemblies using water-activated adhesives. Because of cellulose's ability to surround and seal cavities and voids, properly installed cellulose performs better thermally and acoustically than batt insulation.

Cotton batt insulation

includes 85% post-industrial recycled content from factory denim waste. It comes in unfaced batts from 3.5 inches to 8 inches thick and can be layered for additional insulation value. It does not require protective clothing for installation and is very easy to work with.

Fiberglass insulation

typically contains only about 25% to 30% recycled glass, with a combination of post-industrial and post-consumer content.
Healthier insulation
Some insulation products emit formaldehyde and volatile organic compounds (VOCs). Look for products that have been tested for low chemical emissions by a reputable third-party organization or government agency.
Phenol formaldehyde is used as a binder in conventional fiberglass insulation. The formaldehyde, a carcinogen, can offgas during and after installation, potentially affecting the health of people who work on or live in the home. Fiberglass batt insulation with no added formaldehyde is widely available for little or no added cost and can be used anywhere that conventional fiberglass insulation is used. Fiberglass is also available in a loose form that is blown into walls and attics similar to the way cellulose insulation is installed. Loose blown-in fiberglass does not use a binder and therefore does not have added formaldehyde.
Other insulation materials do not contain formaldehyde.
Installation quality
Studies show that poorly installed insulation severely decreases the material's insulating value. Pay proper attention to installation detail and quality assurance. Install insulation with no gaps or voids. Insulation should fill the cavity side-to-side, top-to-bottom and front-to-back. Cut or fill batts to fit around wiring and plumbing without compression. Compared to batts, blown-in fiberglass, blown-in cellulose or spray-foam insulation typically do a much better job of filling gaps and sealing around pipes. Don't be tempted to skip the insulation of cavities that are difficult to access.
Many homes have poorly installed insulation, even when the work is done by a professional builder or insulation contractor. It's a good idea to have your home professionally inspected for a quality installation of insulation in walls, floors and ceilings. After inspection, have the builder or insulation contractor correct any problems before the drywall is applied.
You or your general contractor can hire a certified Home Energy Rating System (HERS) technician to inspect the quality of the insulation installation. To find a HERS rater, go to www.energyupgradeca.org.
Caulk and weatherstripping
Air leaks in a home often contribute as much to high utility bills and discomfort as poor insulation or single-pane windows. Air leaks can also allow in unwanted moisture, pollen, mold, dust and other contaminants. Weatherization involves sealing leaks by applying caulk, foam and weatherstripping to all cracks and seams where unwanted air might be able to leak in.
Sealing leaks does not require specialized training or tools, just attention to detail. Replace or add new weatherstripping around doors, windows and attic access hatches. Behind the faceplates of electrical outlets and heating/cooling registers, apply caulk where the outlets meet the drywall. Use caulk or spray foam around air spaces where pipes and wires penetrate walls such as under sinks and tubs, around exhaust and vent pipes and flues, through exterior walls, and in the attic at the top plates of the walls. Caulk the bottom plates of the wall framing either at or behind the floor trim.
Insulation GreenPointers
Block heat with radiant barriers.

You can use radiant barrier foil in the attic to reduce the transfer of the sun's heat into your home. Radiant barrier products don't actually insulate but if installed properly they can prevent up to 97% of the sun's radiant heat from entering the home through the roof. Find out more about radiant barriers in our know-how feature on Roofs.