Siding and Decking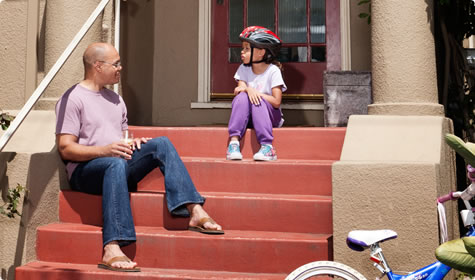 Core Benefits

Earns GreenPoint Rated points

Saves money

Saves energy

Saves water

Protects natural resources

Makes your home healthier

Improves your community
Siding and decking materials have to hold up to a lot of abuse from the elements. Choosing durable, low-maintenance materials will keep your home looking good, reduce repair and replacement costs, and protect your home from rot and structural damage. If you live in a fire-prone area, it's a good idea to use noncombustible materials for siding and decks.
Recycled-content or FSC-certified decking
Besides being exposed to the weather, decks often get heavy foot traffic. Environmentally sound alternatives to conventional lumber can extend the life of the deck and conserve natural resources.
Recycled-content lumber is a good alternative to wood for nonstructural deck components. It is more durable than most wood. It doesn't rot, crack, splinter, or require staining, and isn't treated with potentially toxic preservatives. Also, using recycled-content decking also reduces pressure to harvest forests.
There are two types of recycled-content lumber: recycled plastic lumber, which contains only recycled plastic, and composite lumber, which combines recycled wood fiber and recycled plastic. Both can be used in place of redwood, cedar and pressure-treated lumber for the deck's planks and railings. These products accept screws and nails, and cut like wood. Follow the manufacturer's installation recommendations closely. Choose recycled-content lumber that contains no virgin plastic.
If you prefer wood decking, choose wood certified by the Forest Stewardship Council. FSC certification guarantees that forestry operations are managed in a way that will assure the long-term availability of wood resources and the health of forests.
Use FSC-certified lumber for all exterior-decking applications or as structural deck members in conjunction with recycled-content decking. Choose a species of FSC-certified wood that is appropriate for exterior decking.
Durable and noncombustible siding materials
Siding materials made of metal, stone, brick, traditional three-coat cementitious stucco, and fiber-cement will provide a durable and noncombustible exterior surface for your home.
Use these materials instead of conventional wood siding. Using these siding materials can reduce repainting and other maintenance needs, protect the home from fire, and possibly lower your homeowner's insurance rate, especially in fire-prone areas.
Rain screen wall systems
A rain screen wall system or ventilated drainage plane is an effective solution to external moisture penetration. It allows for an air space between the siding and wall structure, protecting the home from damaging rain intrusion. Drainage planes also reduce the potential for indoor air quality problems associated with window and siding leaks. In addition, they increase the life of siding materials and provide shading on walls to reduce heat gain in summer.
When re-siding or building an addition, install siding with an air space between it and the structural wall. A 3/8-inch minimum air space must be created by using spacer strips or clips, a drainage mat or a specifically designed rain screen system that allows for effective ventilation of the wall.
Flash all wall openings correctly to ensure drainage plane continuity (see our know-how feature on Moisture and Pest Control for information about flashing). Also create adequately sized vent strips at the top and bottom of the wall.
Decking and Siding GreenPointers
Get the details right.

Most moisture shedding and mold avoidance techniques add little or no cost to construction. But it's essential that the drainage plane and flashing details be properly specified on the building plans, and that the builder pay careful attention to detail during construction. Proper care during construction is much more cost effective than having to remove sections of walls or roofs to fix moisture problems like mold or rot.

Keep it dry and pest-free.

When moisture and insect pests get past your home's siding, they can cause all sorts of problems, from mold and rot to structural damage. See our know-how features on Moisture and Pest Control and Roofing for more ways to keep your home healthy, dry and structurally sound.

Learn more.

For detailed technical articles on moisture and drainage plane issues, go to www.buildingscience.com.