Community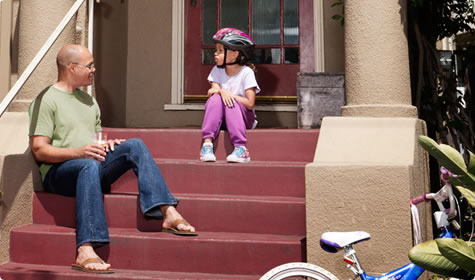 Livable communities enhance quality of life while reducing impact on the environment. Well-designed communities are clustered to help preserve open space for recreation, views, and natural habitats. Pedestrian- and bicycle-friendly neighborhoods provide opportunities for exercising and meeting neighbors.
High-density areas where work, shopping, and school are all close by means less time driving, and fewer greenhouse gas emissions from cars.
GreenPoint Rated allocates an average of 5 percent of its points to livable community features. These include:
Infill Site: The home has ready access to utilities and is near public transportation.
Compact Development: The home is located in a dense neighborhood that includes multi-family units.
Pedestrian and Bicycle Access: The home is within one half mile of services like retail stores, restaurants, parks, and schools. It has walkways, bike paths, and a recreational area nearby.
Safety and Social Gathering: The home has a front entrance that can be seen from the street, perhaps even a porch.